covid-19 information
When you choose us at Idrættens Hus Hotel & Konference as your host for your next meeting, you can do so without worries. We are making sure the surfaces are kept disinfected, we are making it easy for every one to keep the recommended distance, we provide plenty of hand sanitiser, and follow all the officially updated guidelines for dealing with Covid-19.
We're taking care of your health and safety, so you can take care of your work without worries
Dear Guest,
At Idrættens Hus Hotel & Konference we follow the COVID-19 development closely. Ensuring the safety and wellbeing of our guests and staff is of utmost importance. We therefore carefully adhere to the official recommendations of the Danish Health Authority and furthermore act in accordance with established procedures.

We have enhanced our focus on cleaning and have amended our procedures so that all surfaces and common areas are frequently cleaned and disinfected. Hand sanitiser is available in all meeting rooms and throughout common areas.
Our meeting rooms have been reorganised so to adhere to the general requirement of one metre of social distancing between attendees. We furthermore ensure that all catering at meetings is served from multiple service stations to avoid queuing. In addition, a basket is provided containing extra hand sanitiser, disinfectant spray, wipes, facemasks and disposable gloves for use in the meeting areas. That way we can ensure the safety of everyone present.

The breakfast restaurant has also been rearranged so that there is plenty of space between the tables. We have added disposable gloves at the buffet, and you will find hand sanitiser on all tables.
Our staff is constantly kept up to date regarding the guidelines issued by the Danish Heath Authority and help ensure a high level of hygiene.

The safety of our guests is paramount and we will do our utmost to ensure that this is not compromised at any time. We look forward to welcoming you.
Yours sincerely,
Anne Mette Kyhn
General Manager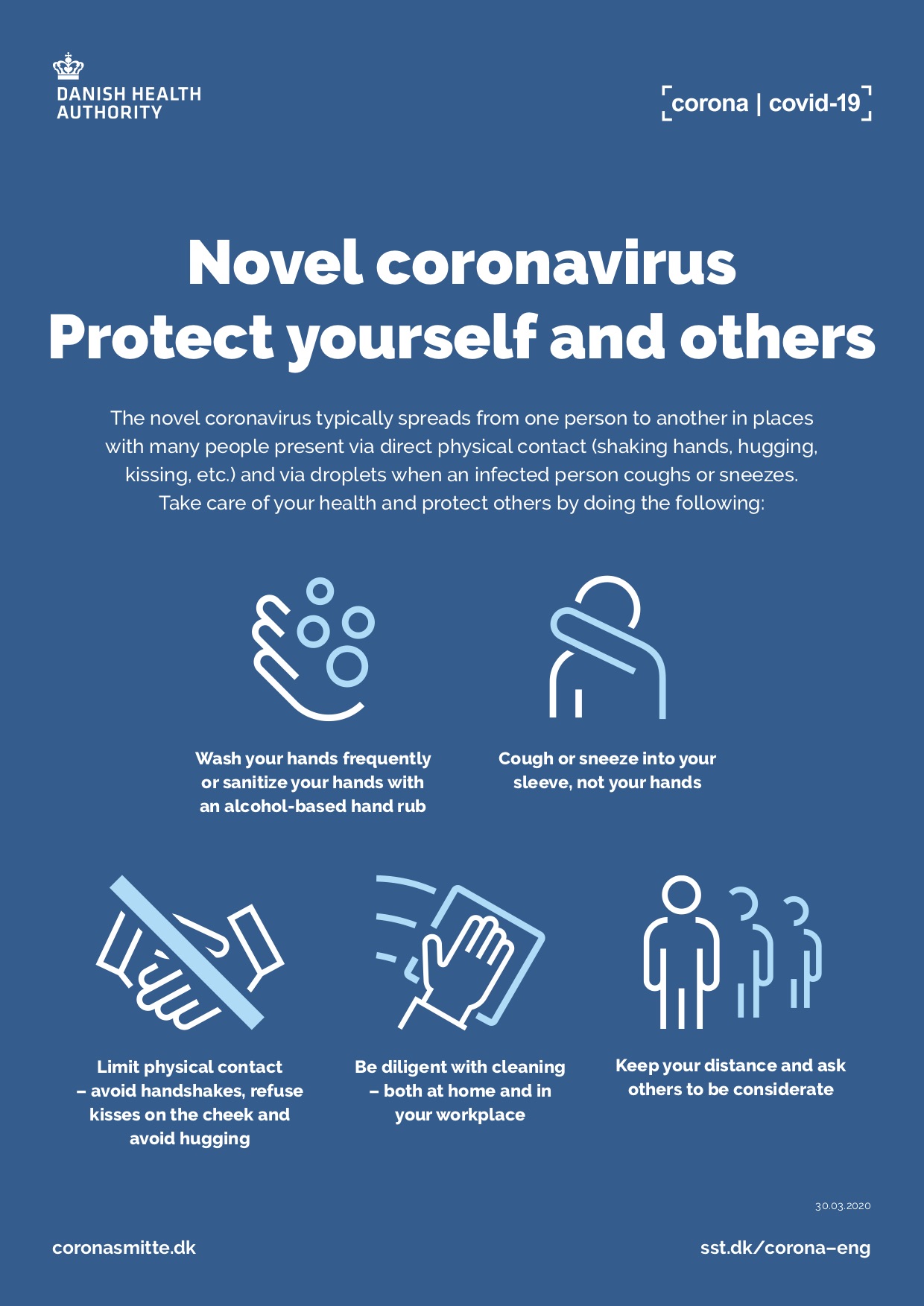 Contact us for more information regarding our Covid-19 precausitions
Up-to-date guidelines
We are constantly keeping up to date with the development of Covid-19 as well as the latest official recommendations from the Danish Health Authority.
Disinfection
With frequent disinfection of surfaces at Idrættens Hus Hotel & Konference as well as ongoing education of our staff, we are securing the safety and comfort of our guests. We have of course also made sure to have plenty of hand sanitizer readily available for all meeting participants, so all you have to focus on, is what you came here for: a succesfull meeting.
Health provides security
At Idrættens Hus Hotel & Konference we prioritise health on a short term as well as a long term basis. You will therefore be met with a variety of healthy meals alongside healthy surroundings, for a safe and productive day with us.