ACTIVITIES AROUND IDRÆTTENS HUS
Idrættens Hus is a perfect stopover for those on the go. The hotel is located a 5-minute drive from the E47/E55/21/04 motorway, allowing you to quickly reach your destination.
Activities around Idrættens Hus/Brøndby
If you have 45 minutes to spare then we offer the perfect walking route, which will take you all around Idrættens Hus. You will pass the football grounds, Denmark's tallest flagpole, the sports arena Brøndby Hallen, and Brøndby Stadium. A route of approx. 3 kilometres.
Artist Thomas Dambo has created six giant trolls in the Vestegnen area. Discover them while enjoying a nature walk.
What could be more wonderful than a dip in the pool during a hot summer's day? Head to Friluftsbadet Badesøen, which is northern Europe's best outdoor swimming pool with a fantastic poolside area. The location is perfect and surrounded by trees and fences, so security is paramount.
Brøndby Forest is a lovely woodland with wide and clearly marked nature paths. Here, you can hike, run and cycle. There is also a nice dog-friendly forest. Nestled in the woodland, you also find a restaurant, Engtoftegård, which is highly recommended. If you enjoy shopping, we recommend a trip to Glostrup Shoppingcenter.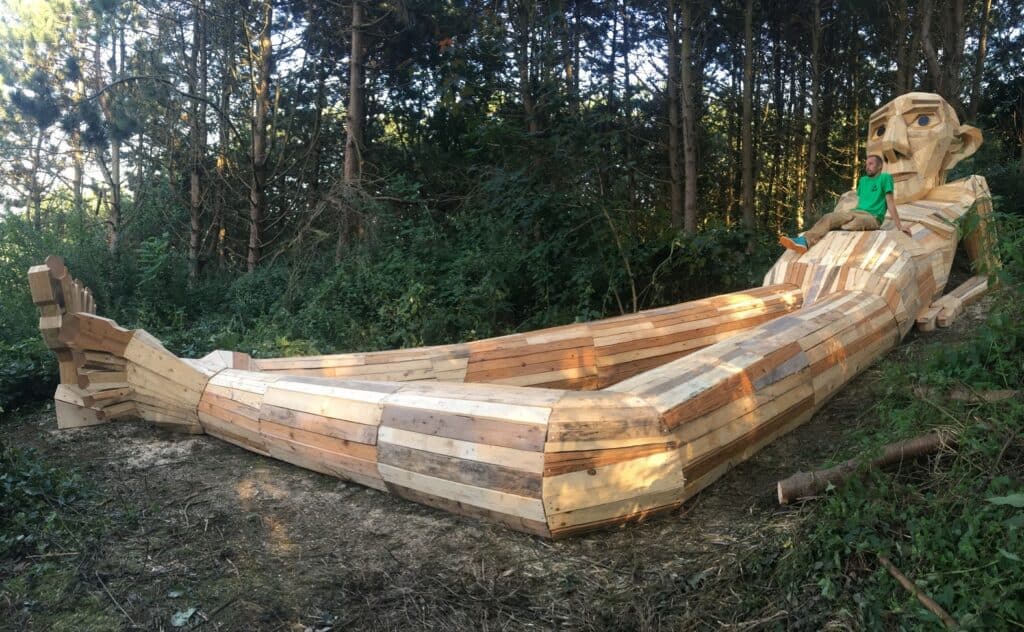 One of the six "Hidden Giants" by Thomas Dambo- The photo is from OpdagDanmark.dk